The 11 Best Moon Photographers to Inspire You in 2022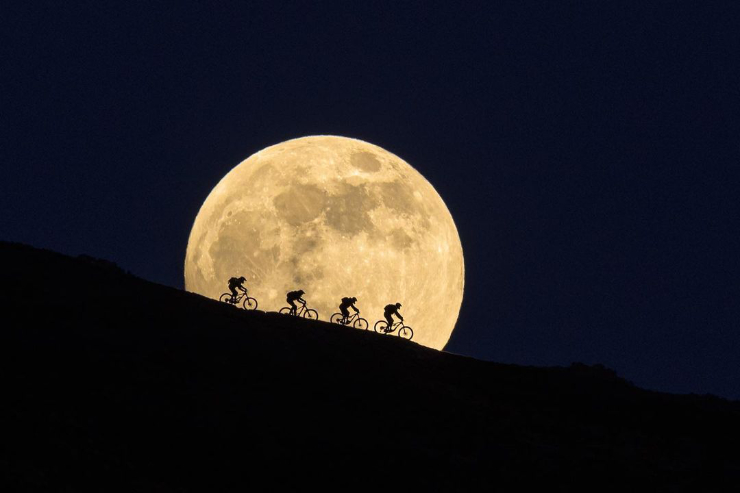 The art of Moon photography is a pursuit that requires real precision.
Not only do Moon photographers need to be well-prepared – as this genre requires a lot of planning – they also need a lot of patience, as they often have to hang around waiting for ideal shooting conditions.
The best in the field are able to capture the Moon with a sense of wonder while also offering a cool scene with the subject and the rest of the landscape.
For most of us, the inspiration comes from seeing the incredible work others produce.
To that end, I've gathered up the 2022 best Moon photographers and listed them below.
Photographers like Yhabril Moro, author of the photo above these lines.
Simply check them out, and give them a follow, to get some brilliant Moon pictures direct to your feed.
Oh... Before I forget...
If you want to give it a try yourself, I have a series of articles and how to guides to get you started, including
You might also like to see my reviews of
And now, it's time for you to discover the 2022 best Moon photographers.
Imagine. Plan. Shoot! ;)
Moon Photography: The Definitive Guide
Get this ebook for free now!
Content
1.

Albert Dros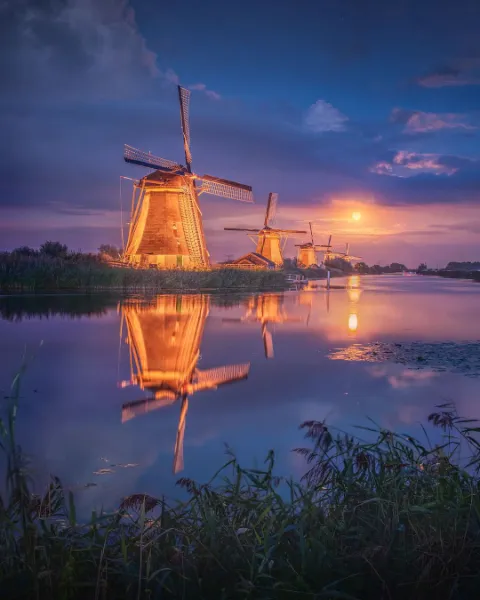 Albert Dros is a Dutch photographer well known for his spectacular landscapes and cityscapes.
He started getting serious with photography in 2012 when he was living in Hong Kong for 2 years. The whole culture of Hong Kong of always being outside encouraged him to capture everything around him. The spectacular city, the street markets, the rainy nights, but also the beautiful landscapes around the city... There was just so much to photograph!
He taught himself photography, learning how to see colors and composition, and basically having the ability to see what looks nice to his eyes and what doesn't.
He's a master in planning and executing unique imagery and has got several viral images as a result of that.
Actually, planning a perfect photo has always fascinated him. He has been working with PhotoPills since the early days and he didn't stop until we released the Android version... :D
That's why we love having him as a Master during the PhotoPills Camp, an epic full week of photography immersion taking place in the beautiful island of Menorca (Spain)!
He has this drive and vision in his head of achieving shots in which planning plays an important part. Simple things like knowing when and where exactly the Moon rises are important to know about when planning photos.
For Albert, it's not only the photo, but the whole process that is part of the journey to the end result. And that's what makes the final shot very satisfying.
2.

Josh Cripps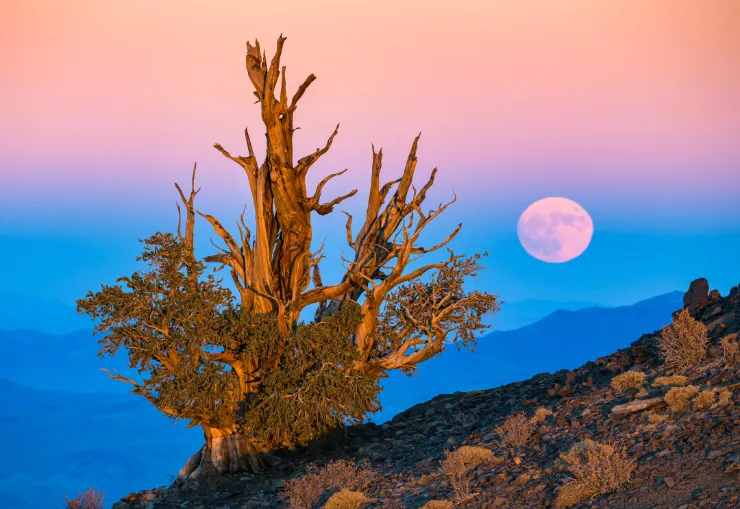 Wilderness landscape photographer Josh Cripps has traveled the world to shoot some of the most beautiful places imaginable. He's also spent significant time photographing California's expansive coastlines and mountains. To Josh, landscape photography isn't just a creative outlet, it's a way to connect and interact with nature on a deeper level.
He grew up in a very small town and then he moved to Los Angeles to go to college. After finishing his bachelor's degree, he decided to do a round-the-world trip to take a break from studying.
After that trip, he came back to L.A. and started working in engineering, which is his background. Every year he would just take these big, long vacations, four or five weeks. On one of these vacations he took a DLSR to Alaska with him and returned home with terrible pictures.
So he started learning about aperture and shutter speed. The technical stuff was always super easy for him to understand as an engineer, but the emotional and artistic side of those things were much harder to learn.
However, for a long, long time he had very little interest in shooting the Full Moon. It was too hard technically, too annoying, too difficult to make a good looking photo.
At least that's what he thought until he discovered the full power of PhotoPills planning tools to capture the beauty and possibilities of shooting Earth's natural satellite.
The engineer in him loved all the math and planning necessary to make it happen!
For there on he couldn't stop brainstorming ideas. Now the Full Moon is one of his favorite things in the world to photograph. And he goes on missions almost every month to shoot it.
If you want to know more about how he plans his shots, have a look at the Masterclass he gave on the PhotoPills YouTube channel.
3.

Jennifer Khordi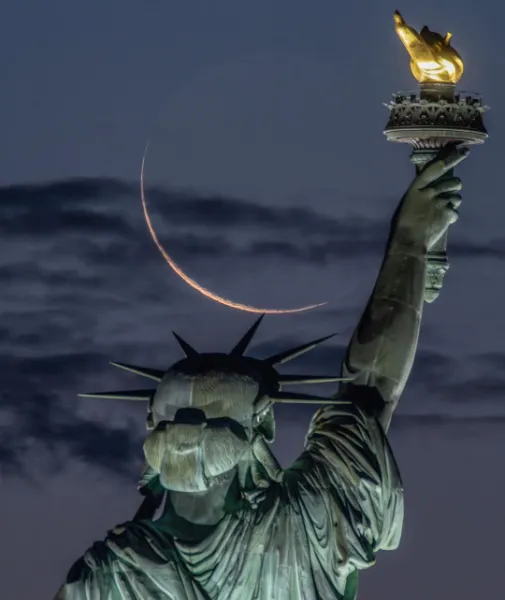 Jennifer Khordi is a cityscape and landscape photographer based out of New Jersey, USA.
She actually took film pictures back in college and then gave it up for a long period of time to raise a family. She started photography again after an 18 year absence 8 years ago, when her two boys were old enough where she could have some free time of her own again.
She loves the night sky and she started shooting the Moon and the Milky Way. For her, plotting and shooting the Moon and Milky Way is an amazing challenge.
After a while, she quickly became obsessed with the Moon and that's what she's most famous for now, Moon shots over New York City. Nowadays, she dedicates most of her time planning and executing amazing photographs of the Moon in New York City.
And she's a true Moonmaster!
All Jennifer's pictures are just one shot. So no composites, no blending, no Photoshop.
For Moon photography, you have to know how to plot the Moon rise and set relative to where you're standing and the subject you're shooting. In other words, You have to understand how to determine where these objects are relative to where you're shooting and the time and date.
The planning has to be exact. So she spends most of her time planning her ideas and uses PhotoPills to help her.
She drives around for hours scouting places to shoot the skyline and studies weather patterns and cloud percentages to pinpoint the exact location necessary for the best possible shot.
And, as you can see from her body of work, the results are spectacular.
That's why she's one of the best 2022 Moon photographers.
4.

Toni Sendra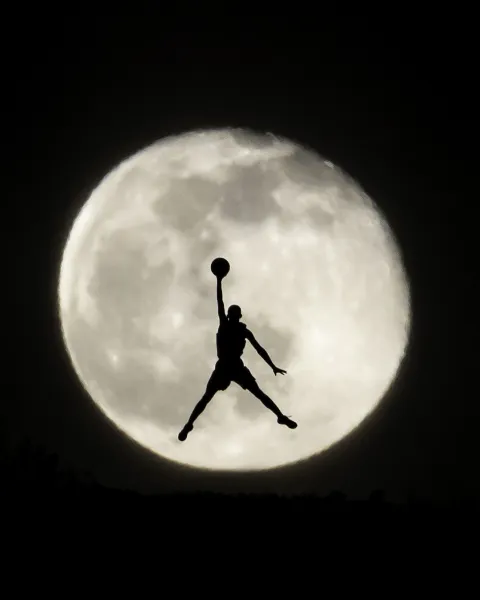 Toni Sendra is a Spanish landscape photographer who specializes in Moon photography.
He's also a numismatics enthusiast, which drove him to buy his first DSLR. These numismatic pictures led him to have to learn a lot about macro photography and start tinkering with editing programs such as Photoshop.
At some point he saw one of those photos with a giant Moon and thought that it was impossible to capture something like that.
He started investigating and soon discovered PhotoPills, which turned out to be much more than a photography app. Unfortunately, at that time there was only an iOS version so he forgot about it.
Years passed and by chance at the end of 2016 he went out to shoot with a friend. The session did not turn out as planned, but Toni did have an iPhone at that time! The next day he installed PhotoPills and since then there hasn't been a Moon that Toni hasn't planned...
The kind of photography that Toni captures requires a lot of preparation.
For him, the most important part is the idea, the imagination. The idea or inspiration can come to you at any moment.
When he has a clear idea in mind, then a more automated process begins. He checks if it is possible, when... If the photo actually happens, he then manages the production and execution of the shot. There are images that may seem simple, and yet there may be 2 years of work behind it!
5.

Yuri Beletsky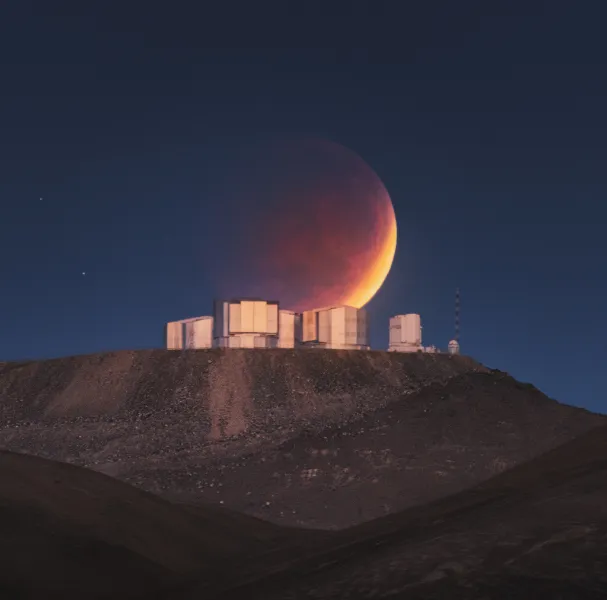 Born in Belarus, Yuri Beletsky is a professional astronomer and an award winning nightscape photographer based in Chile.
He conducts scientific research and deals with modern astronomical instrumentation at Carnegie Las Campanas Observatory, one of the largest optical telescopes located in the south of Atacama desert.
Yuri has been an enthusiastic stargazer since childhood. With the rapid development of digital imaging technology, he discovered a passion for astrophotography, and nightscape photography in particular.
Therefore, during his spare time, he sets up a DSLR camera on a tripod and takes images of the night sky, wide-field panoramas of the Milky Way, and other natural phenomena, such as the Moon or lunar eclipses. As a result, Yuri is an active contributor to NASA Astronomy Picture of the Day (APOD), having more than 50 featured images on the NASA website!
When not at the observatory, you can find him traveling around the world and sharing his passion for astrophotography and nightscape photography through lectures, private lessons, and workshops.
6.

Yhabril Moro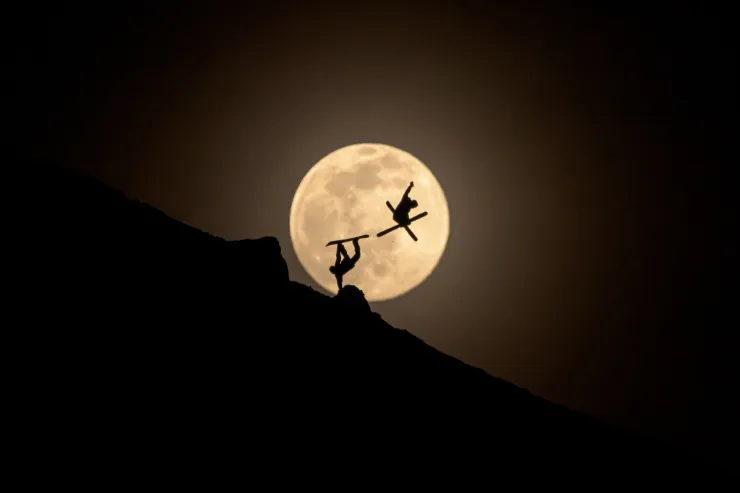 Gonzalo Bartolomé, also known as Yhabril Moro is a mountain enthusiast, a freerider and, as he describes himself, a "lunatic". In other words, a Moon photography lover.
Although he was born in Bilbao, Yhabril has been living for many years in the Jacetania region, in Villanúa to be more precise. He studied engineering but he currently teaches snowboarding in the Astún ski station in Spain.
He started in photography through Instagram, taking pictures with his smartphone and exploring very surrealistic proposals. The passion he puts into what he does and his sense of creativity led him to seek new emotions.
Yhabril's two artistic branches are very different: one is action photography, mainly snowboarding and freeride, and mountain photography. The other one is Moon photography, where he combines extremely difficult snowboarding movements with a huge Moon behind.
When looking for a good photo, he often goes alone since some are well thought out, but others are improvised, and almost no one is willing to accompany him. But when he goes to take action photos he does so with his friends.
He considers himself a loner and likes to be alone. But being able to share it with his friends is what puts the icing on the cake... When he gets the photo, they succeed all together.
Yhabril gets that photo that no one else has thought of. In the end, it's all about trying to make things more interesting, which is the secret of his success.
And above all, not leaving anything to chance. One of his most famous pictures required more than three years of planning and hard work to achieve the exact moment he wanted to capture.
Add to this the unpredictability of the weather conditions during the shooting and the fact that up in the mountain there are certain risks that you have to undertake. So that's why Yhabril is one of the 2022 best Moon photographers.
7.

Alyn Wallace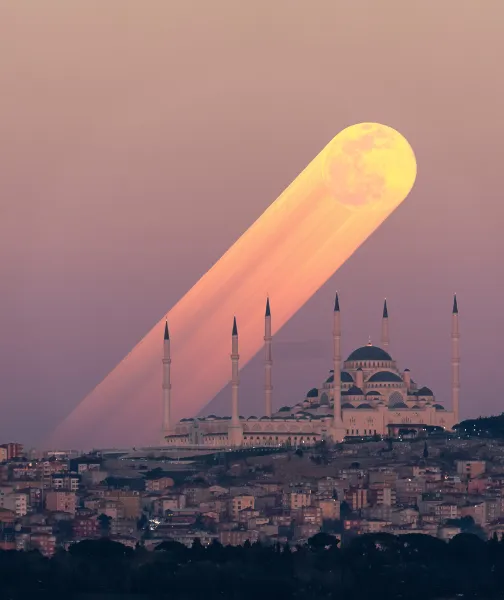 Alyn Wallace is a landscape astrophotographer from South Wales, United Kingdom.
Although Alyn studied astronomy at university, he didn't get into photography until later for a very simple reason – he didn't have enough money for a camera.
Seeing the Perseids meteor shower on holiday in Turkey in 2015 persuaded him that he needed a DSLR. He was working in design engineering at the time, but his astrophotography has since taken over.
His work is very similar to classical landscape photography except undergone at night under starry skies. The predictability of the night sky allows him to plan shots very much in advance before praying for the weather conditions to be favorable whilst the alignment is possible.
That's why he's on a continuous quest to find the darkest skies and the most otherworldly landscapes on Earth.
In this sense, he's best known for his Milky Way images aiming to portray our place in the universe.
However, Alyn is also passionate about the Moon and he loves capturing unique images in the most iconic locations like the one you can see above. And while there are many useful apps to help you plan your Moon photos, Alyn's favorite is PhotoPills, which allows him to get meticulous in his planning.
In the end, his passion for the sky and for planning amazing ideas result in a handful of jaw-dropping pictures!
8.

Dan Martland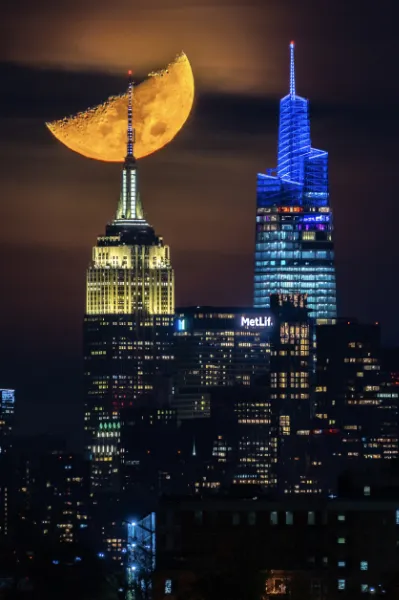 Dan Martland is a multi-skilled freelance camera operator and editor based in New York City.
Photography is his hobby and passion and he shares an absolutely stunning series of images from the New York City area and beyond almost every night.
As a matter of fact, he has been praised for capturing unique shots of some of the city's most iconic locations.
He became a freelancer not so long ago. That's when he started getting a little braver and wading into the East River, climbing onto rooftops and risking his life on the streets of Manhattan. But he admits it's worth it when he sees the pictures!
For him, NYC is the perfect playground because there's always something else to discover, and he's always looking for an angle that no-one has shot before.
He never stops learning and he loves trying new things as he likes to surround himself with some really good like-minded photographers.
In this sense, learning how to plot shots with the Moon and Sun to come up in his frame where he wants it to be using PhotoPills has been a game changer. As you can see from his latest work on Instagram, he's become quite obsessed with the Moon!
9.

Mark Gee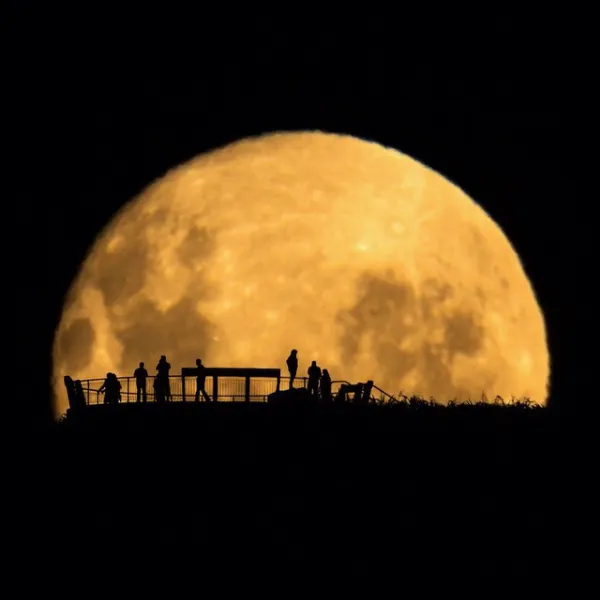 Astrophotographer Mark Gee has always been fascinated by the mysteries of the night skies, even as a child.
He studied photography at school but after that time his photographic skills, particularly night photography skills, have been all self-taught. That's why he considers his astrophotography journey to be incredible. Because he's got to learn about himself and his craft, as well as the night sky above.
Mark usually spends hours alone under the starry sky, venturing to the darkest and most remote locations he can find, preferably areas with very little light pollution.
Being based in New Zealand, home to some of the darkest skies in the world, he's extremely lucky in this regard.
Nevertheless, Moon photography can be one of the most frustrating forms of photography as there are many obstacles to overcome to get the perfect shot.
It involves planning and luck, and if he doesn't manage to get the particular composition with the night sky and the landscape that he had planned due to bad weather for example, then it may be another year until all things align again and he can have another go at that shot.
Did you know that it took him one full year to get the perfect shot and film his viral 'Full Moon silhouettes' video?
10.

Dave Lyons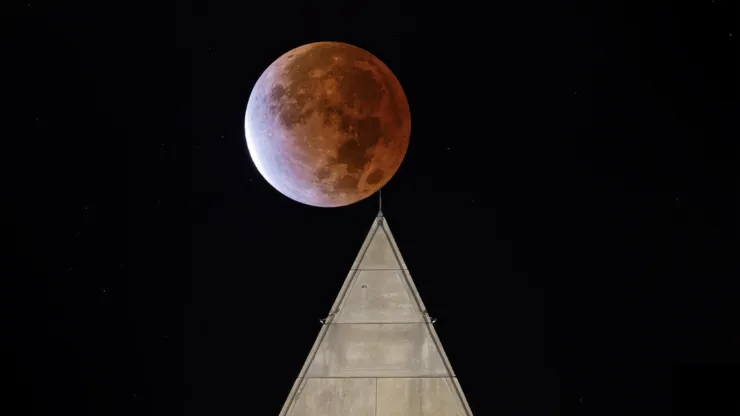 Dave Lyons is a photographer based in Washington D.C. (USA).
Despite being a passionate landscape, concerts, sports and wildlife photographer he has a soft spot for Moon photography... So he likes to spend as much time as necessary thinking and planning his shots.
He loves to add interest to his Moon photos by pairing it with a foreground subject. Since Dave lives in D.C. he likes to include monuments such as the U.S. Capitol, Washington Monument, Lincoln Memorial, and Jefferson Memorial. But he also likes to shoot in other locations including New York City, Baltimore and Annapolis.
The first step that Dave follows to planning a Moon shot is to check the schedule of Moonrise, Moonset and Moon phase.
Then, when possible, he positions himself far away from the foreground subject to make the Moon appear bigger and more interesting in comparison to the foreground.
Finally, he measures the elevation angles of how the Moon rises, sets and its phase to achieve a perfect alignment between the Moon and his subject.
Obviously, he gets all the information he needs by using PhotoPills!
Once everything is set, he makes sure that his foreground subject is sharp rather than having the Moon sharp because when the Moon is near the horizon, it often appears distorted due to the atmosphere.
And that's how he gets incredible Moon pictures such as the one you've seen above.
11.

Ramón Pérez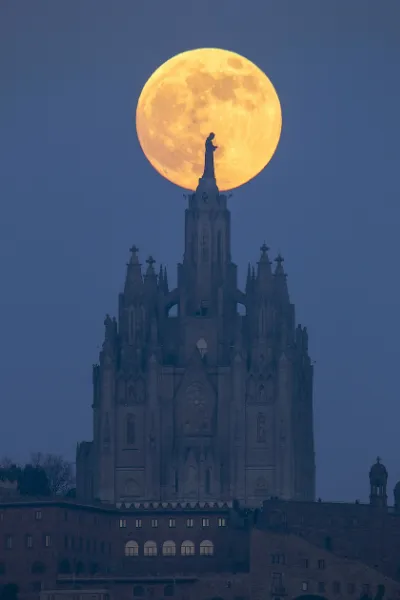 Ramón Pérez is a photographer based in Barcelona (Spain).
In 2015 he became interested in night photography and started practicing to improve his light painting skills. But he's also an astrophotography enthousiast with a strong weakness for the Moon.
He knows practically all the shooting spots of the most famous monuments of Barcelona such as the Sagrada Familia, the Agbar tower or the expiatory temple of the Sacred Heart (Sagrado Corazón). As a result, he has created a community of "lunatics" in Barcelona with whom he shares his knowledge and passion for this type of shots.
As you can imagine, he's an early adopter of PhotoPills – a tool he loves because it allows him to plan his photos before leaving home.
And thanks to his imagination, his patience and his persistence, he's been featured several times in the PhotoPills Awards.
He is, without a doubt, one of the Moon photographers from whom you can get tons of inspiration.
12.

Why not discover more great Moon photographers?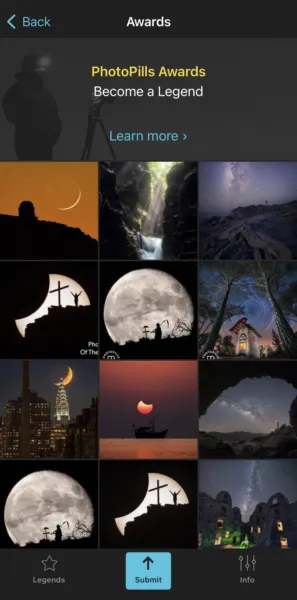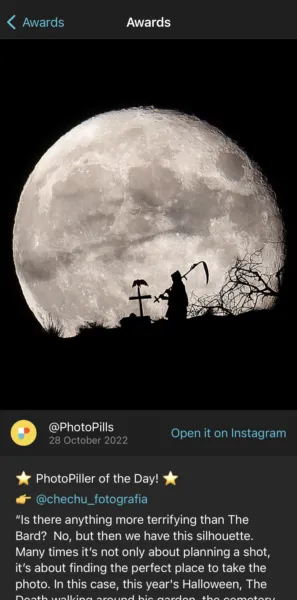 I've just shared with you a list of what I consider the best Moon photographers to inspire you in 2022.
Use their work as a source of inspiration to help you imagine your own photography ideas.
However, there's a much more powerful inspiration tool that you can use to your advantage. It's a virtual gallery where you can see lots of photos that other PhotoPillers have imagined, planned and captured all over the world...
There, you can see hundreds of pictures of the Moon.
Isn't it awesome?
You'll find them in our Instagram account (follow us!) and in the PhotoPills app (My Stuff Menu > Awards).
But there's more...
Because if you have an amazing shot that you want to be showcased, you can submit your own photos too and help us inspire other PhotoPillers.
You have all the information on the PhotoPills Awards section of our website.
13.

Want to become a Moon photographer?

Why don't you try it too?

I mean...

Why don't you think of a cool Moon shot, plan it with PhotoPills and capture it?

I'm sure you can come up with amazing ideas!

And there's only one way of becoming the best Moon photographer: practice, practice, practice...

So let's get to it!

First, have a look at what I consider the 2021 best Moon pictures. They are a great source of inspiration.

Then, plan your next Moon shots with PhotoPills – the best app for Moon pictures!

And finally, take your picture of the Moon.

Time to chase the Moon! ;)

 

Note: Some links on this page are affiliate links. What does this mean? If you buy/rent using these links you're helping support us and it costs you nothing extra. Thank you for your support.

Moon Photography: The Definitive Guide

Get this ebook for free now!