The PhotoPills Expedition to Tuscany is Sold Out (Join the Waiting List)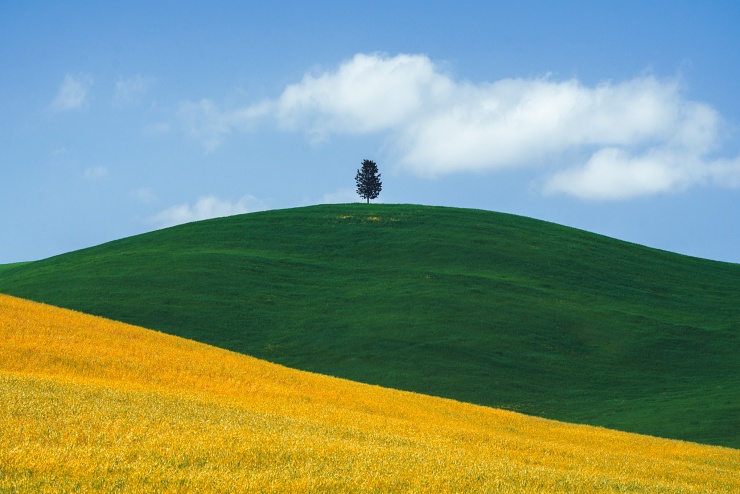 The PhotoPills Expedition to Tuscany is SOLD OUT!
Wow!
All 12 spots are already gone!
Thanks so much :D
Wish to join us?
Don't give up!
There are always cancellations...
Click here to join the Waiting List.
Be the first one to know when a cancellation occurs.
We're going to Tuscany...
Are you in?
Around the last quarter Moon...
From April 28th to May 4th 2024, Marco Grassi and Neil Tapman (PhotoPills Masters) will travel across Tuscany to photograph the beautiful Spring Colors, the Sun and the Golden Light along with some of the hidden treasures of this Italian paradise...
Luxury private villa and private Italian chef included!
The perfect combination of photography, good food and comfort... 100% Italian.
Of course...
We'll be taking photos all day long...
But...
Can you imagine it?
To photograph the Spring green colors, the Sun and Tuscany's unique golden light with lush rolling hills, misty valleys, ancient chapels, abandoned ruins, iconic serpentine roads, picturesque villages and lone cypress trees...
We're dreaming about it!
To achieve it, we'll use the planning power of PhotoPills and the expert knowledge of Marco Grassi and Neil Tapman to always be at the right place at the right time.
Top secret: we have quite a few legendary photos planned already... including a few cool Sun alignments ;)
The Deal (only 12 spots)
Because you are subscribed to the Priority List...
We're offering you a €500 discount on the regular price!
All you have to do is to book 1 of the 12 spots available before Sunday December 10th.
Read carefully all the details of this unique adventure.
And when you're ready, click here to book your spot.
Please, book as soon as possible. The seats are sold on a first come, first served basis.
The Adventure
12 PhotoPillers | 2 PhotoPills Masters | Tuscany | Endless legendary photos
Warning! This is not a honeymoon... but it almost is!
We'll stay in a luxury private villa located among the most beautiful hills of Tuscany...
With a private Italian chef preparing delicious meals everyday!
Long story short...
We're recruiting 12 brave PhotoPillers (PhotoPills and photography nerds) to join us on a 7-day expedition to photograph Tuscany's beautiful Spring Colors, the Sun and the Golden Light along with the essence of this enchanting italian paradise.
This is an adventure to chase legendary photos and you are a key asset!
We have planned tons of photos... Including a few special Sun alignments :)
And we'll travel a few kilometers to capture them...
But we also want to maximize our flexibility in terms of itinerary and schedule in order to take advantage of all the opportunities that the changing weather will surely put in our way.
If we see something interesting happening in the sky, we'll pick the best location possible, stop and take advantage of the occasion.
You are about to embark on a PhotoPills' style journey. And it's not going to be a honeymoon precisely... :P
You'll be a true photographer!
Are you in?
Day 1. Sunday, April 28th - Welcome to Tuscany
It's early Sunday afternoon...
And you land in Florence, the capital of the Tuscany region, Italy.
Although, I recommend you to arrive the day before to have an extra day to decompress and enjoy Florence's culture, Renaissance art and architecture... like the magnificent Duomo Cathedral, with its massive red dome dominating the city's skyline.
2:00 pm
Tuscany is renowned for its breathtaking landscapes, rolling hills, ancient farmhouses, and the unique soft light that has captivated artists for centuries.
After picking you up at the airport we'll drive directly to our private "Podere", an idyllic villa perched upon the hills of the beautiful Tuscan countryside overlooking the picturesque landscape of Val d'Orcia.
The word "Podere" is quintessentially Tuscan, often referring to a farmhouse or estate.
This will be our basecamp for the entire week.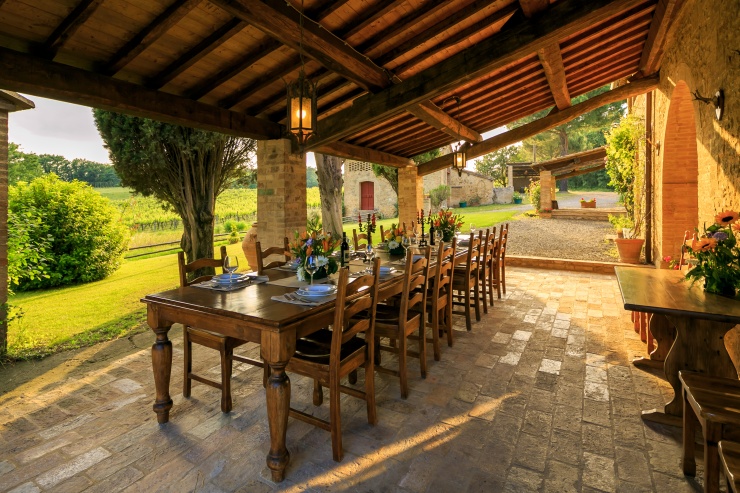 4:30 pm
After settling into our rooms, we will gather for some local delicacies - delightful cakes and refreshing beverages - a warm welcome into the heart of Tuscany.
5:00 pm
Expedition briefing...
Marco and Neil will go over the expedition itinerary, logistics, equipment and safety instructions for the week.
It's also time to get to know each other more and answer all your questions.
5:30 pm
Since light waits for no one...
As the day edges towards the evening, we will head to the hills south of San Quirico d'Orcia.
Here, two solitary cypress trees stand tall against the backdrop of undulating hills.
Use your telephoto lens to play with the composition, placing the trees centrally or asymmetrically, always looking for the perfect balance and harmony in their frame.
And if there are clouds, well, welcome them into the frame!
6:45 pm
Our next stop is just a short drive away, where two oak trees await.
These trees, with their gnarled branches and expansive canopies, provided a different texture and mood.
Use a wide-angle lens to beautifully capture their grandeur, while a slightly longer focal length shot in portrait will emphasize individual characteristics and details.
Be creative!
7:15 pm
As the sun dips closer to the horizon, casting long shadows and bathing everything in a warm, amber glow, we reach our sunset location near the Chiesa di Vitaleta.
This iconic church, standing solitary amid vast fields, embodies the serene beauty and timeless charm that the region is celebrated for.
Here, we have the choice of capturing the church with the radiant backlighting or focusing on its charming facade.
So open PhotoPills and check where exactly the Sun is about to set.

Golden hour begins at 7:32 pm, Sunset is at 8:11 pm, golden hour ends at 8:30 pm and blue hour ends at 8:42 pm.
9:00 pm
The day, filled with traversing the countryside and chasing the perfect shot, culminates with a drive back to the villa.
As we arrive, tantalizing aromas wafted from the kitchen, signaling the start of a well-deserved feast.
The dinner, curated by a local chef, features Tuscan specialties, allowing us to savor the region's culinary delights...
Meals change everyday, with a mix of Italian and international food.
11:00 pm
Our first day in Tuscany is not just about capturing beautiful images but also about experiencing the rhythm of the land, understanding its history, savoring its flavors, and being in the moment.
Time to go to bed... Tomorrow we will photograph the iconic cypresses!
Photographic pills:
Daytime shots of lone trees and green rolling hills.
Golden hour and sunset at Chiesa di Vitaleta
Day 2. Monday, April 29th - The Cypresses
5:15 am
Nestled beneath the bridge, we find our sunrise vantage point at "Boschetto dei Cipressi". If the heavens are in our favor, the sky begins to dance with colors.
As we stand before the vast expanse of Tuscan hills, the lone cypress trees in the distance beckon us. We experiment with our frames, perhaps placing wildflowers at the forefront or waiting for the sun to cast its first golden ray on the horizon.
Blue hour begins at 5:39 am, golden hour begins 5:51 am, Sunrise is at 6:09 am and golden hour ends at 6:48 am.
7: 30 am
Over a sumptuous breakfast, we share our experiences, discuss our captures, and reenergize for the adventures ahead.
11:00 am
PhotoPills Class!
Marco and Neil will show you how to plan your photos with PhotoPills... sharing lots of tips on the way!
12:30 pm
Lunch specially prepared by our chef.
2:00 pm
Siesta time (nap time)!
3:30 pm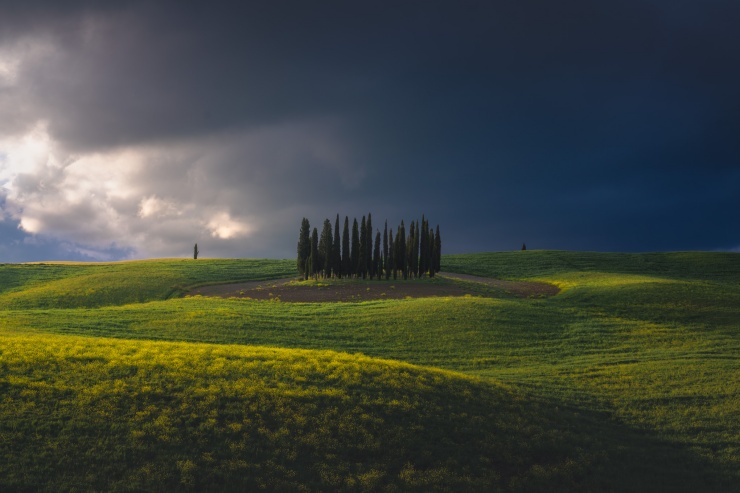 The afternoon light paints the landscape with a different brush. We head to Quinciano, where towering cypress trees await our lenses.
As we journey on, a solitary tree against a backdrop of undulating hills invites us to stop and capture. We position ourselves on the gravel road, seeking the perfect frame.
5:00 pm
Do you fancy a gelato?
Asciano offers a brief respite. Here, we can explore the town's charm, savor some local delicacies, or perhaps capture the quintessence of Tuscan life.
6:00 pm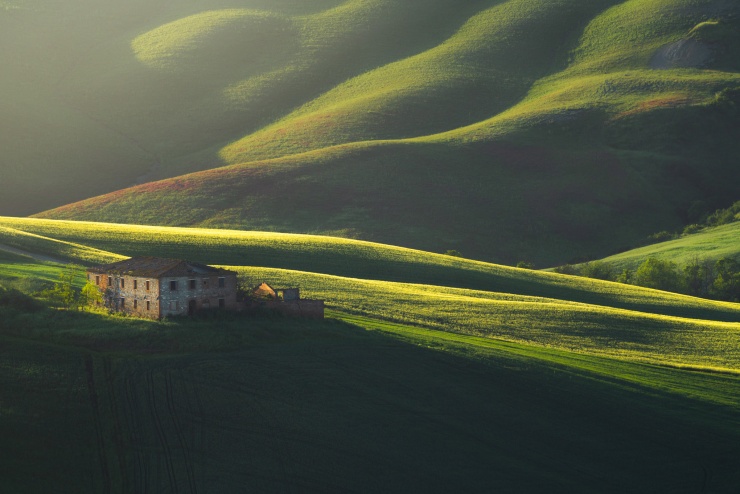 The day's palette shifts as we reach our destination. An old, abandoned house peeks from the valley, and the hills create mesmerizing patterns in the evening glow.
7:00 pm
Our final destination for the day, Mucigliani, unfolds its treasures.
Lone trees stand sentinel, urging us to capture their elegance as the golden hour bathes everything in a warm, ethereal light...
Golden hour begins at 7:34 pm, Sunset is at 8:13 pm, golden hour ends at 8:32 pm and blue hour ends at 8:44 pm.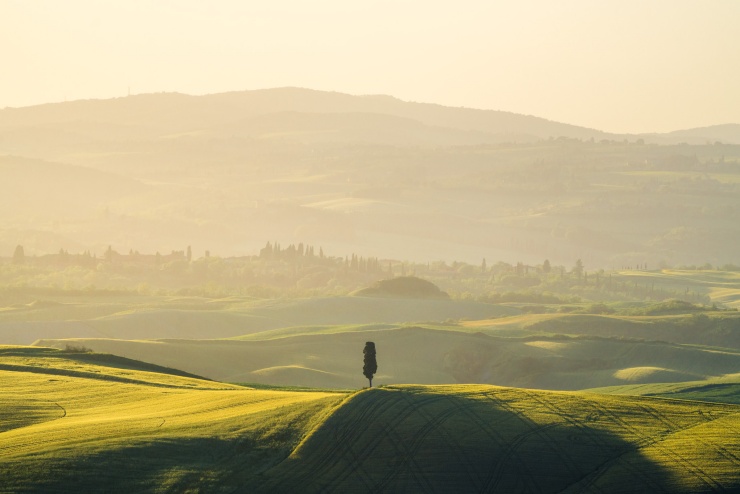 9:15 pm
We find ourselves back at the villa, where memories of the day crystallize over a delightful dinner. We share, we learn, we anticipate tomorrow.
11:00 pm
Bed time!
Photographic pills:
Golden hour and Sunrise at Boschetto dei Cipressi.
Towering cypress trees afternoon shots in Quinciano.
Abandoned house.
Sunset and golden hour in Mucigliani.
Day 3. Tuesday, April 30th - The Lone Tree and the Gladiator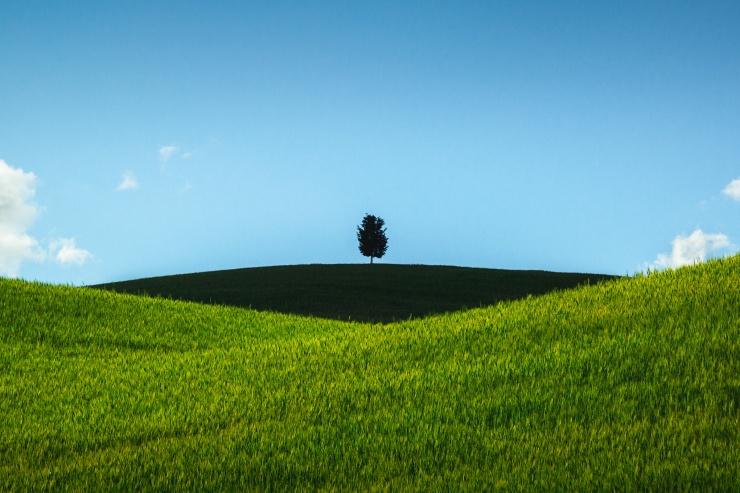 5:15 am
In the heart of Tuscany lies a landscape replete with artistry; every hill, every tree, every villa whispers tales of timeless beauty. On our third day, our expedition delves deeper into these narratives, aiming to capture not just sights, but the soul of the region.
Podere Belvedere is revered for its rustic charm, this spot is nestled amidst rolling fields, offering a splendid view of traditional Tuscan villas framed by the meandering patterns of early morning fog.
As we station ourselves, the grandeur of the location unfolds. The blue hour casts a mystical sheen over the villas, their windows shimmering with the remnants of night. The approach of golden hour, however, promises clarity — revealing intricate details of the landscape, from the textured terracotta rooftops to the emerald quilt of fields below.
Blue hour begins at 5:37 am, golden hour begins at 5:49 am, Sunrise is at 6:08 am and golden hour ends at 6:47 am.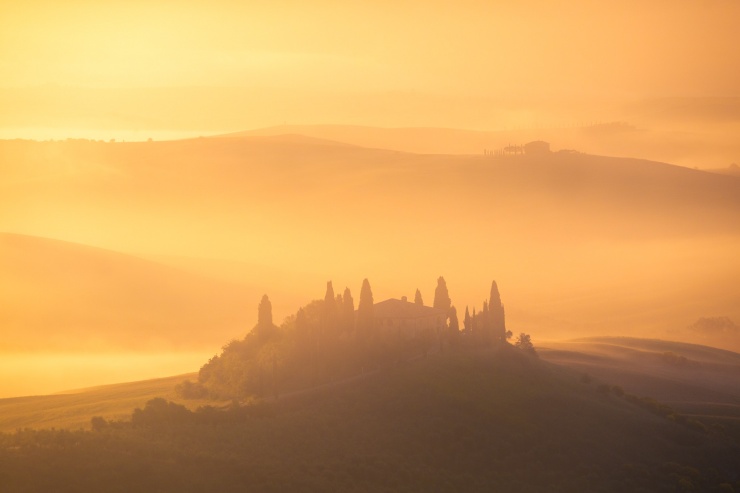 7:30 am
We return to our villa, its stone walls and verdant gardens a quiet testament to Tuscan architecture and flora. A hearty breakfast spread awaits us.
11:00 am
Post Processing class with Marco and Neil.
12:45 pm
Lunch calls!
2:00 pm
Siesta time (nap time)!
3:30 pm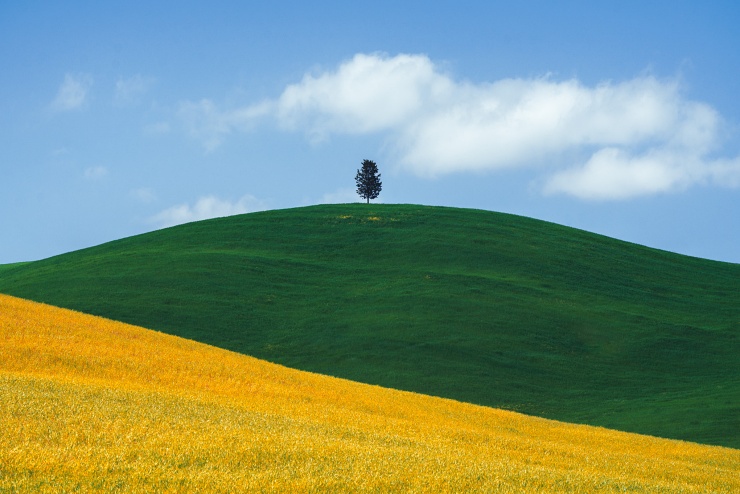 Our afternoon excursion leads south of San Quirico. Here, vast fields sprawl with geometric patterns etched by plows and time, and lone trees punctuate the horizon - their silhouettes offering stark contrasts against the gold and green.
A journey of mere minutes transports us to a spot that feels like another world...
A lone tree stands sentinel between two hills, its shadow long and dramatic under the waning sun.
On days when the sky is peppered with cumulus clouds, this tableau becomes ethereal, as light and shadow play a captivating dance.
4:30 pm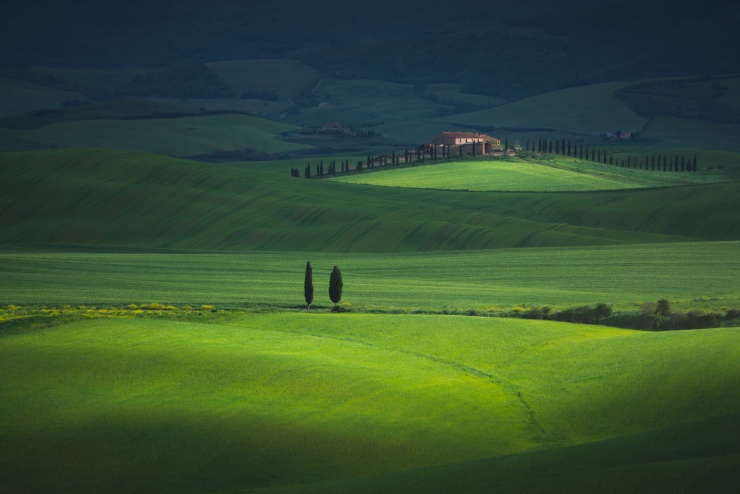 The vicinity of Palazzo di Geta beckons next. Here, isolation takes a poignant form with trees, distanced yet distinctive against the expansive backdrop. The southern vista especially calls for telephoto lenses, urging us to focus on distant, solitary arboreal figures.
5:40 pm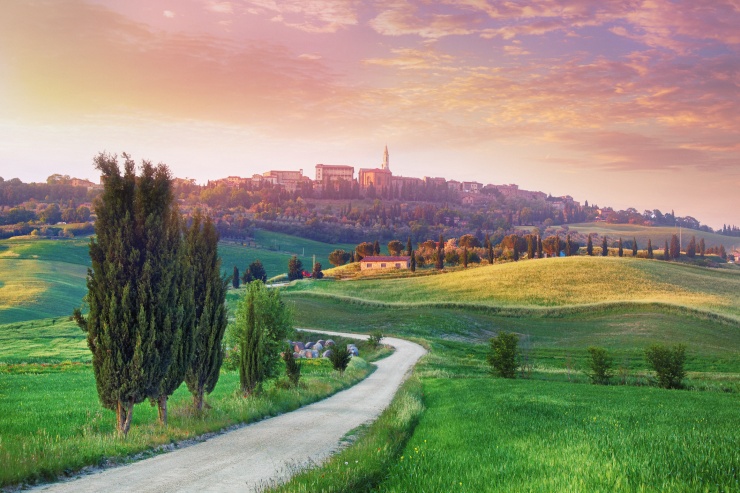 Culture meets cuisine as we enter Pienza. Cobblestone streets, Renaissance-era buildings, and bustling piazzas tell tales of history. Our sojourn is sweetened at Buon Gusto Gelateria, where flavors burst with traditional Italian flair.
6:45 pm
The iconic Podere Terrapille awaits as evening approaches. This path, immortalized in the movie Gladiator, stretches ahead, bordered by wheat fields that sway to nature's rhythm, cypress trees that reach skyward, and a villa that stands as a silent guardian of stories past.
The distant mountains, bathed in the evening glow, serve as a majestic backdrop.
Golden hour begins at 7:34 pm, Sunset is at 8:13 pm, golden hour ends at 8:32 pm and blue hour ends at 8:44 pm.
8:30 pm
With twilight's embrace, we make our way back, hearts full and cameras richer.
9:30 pm
The day culminates in the comfort of our villa. As we gather for dinner, the clinking of glasses celebrates not just the day's success, but the promise of more Tuscan tales awaiting discovery.
11:00 pm
Bed time!
Photographic pills:
Blue hour, golden hour and Sunrise at Podere Belvedere.
Afternoon shots of isolated trees at San Quirico and Palazzo di Geta.
Ancient streets and architecture at the beautiful village of Pienza.
Golden hour and Sunset at Podere Terrapille (Gladiator's villa).
Day 4. Wednesday, May 1st - The Infinite Lines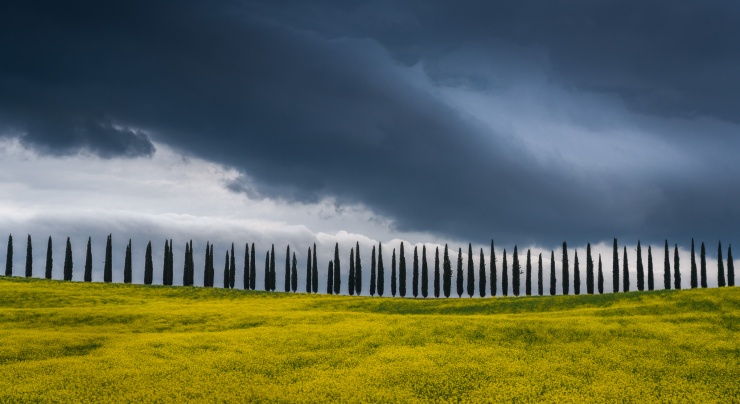 5:50 am
With the stillness of pre-dawn, we set out on a gentle drive towards our next destination, a path en route to Castiglione d'Orcia. The morning's first light hasn't yet peaked, but the anticipation of the day ahead keeps us spirited.
We arrive, and our short hike begins. Navigating a quaint path between some bushes, we soon find ourselves on a gravel road. It leads us to the perfect spot, with the first light of dawn inching closer.
The blue hour offers a serene backdrop, the villas in the distance softly illuminated. While waiting for the sun's ascent, we position ourselves, exploring the best angles and compositions. The scene promises some mesmerizing telephoto captures, especially as the horizon slowly gets bathed in a golden hue.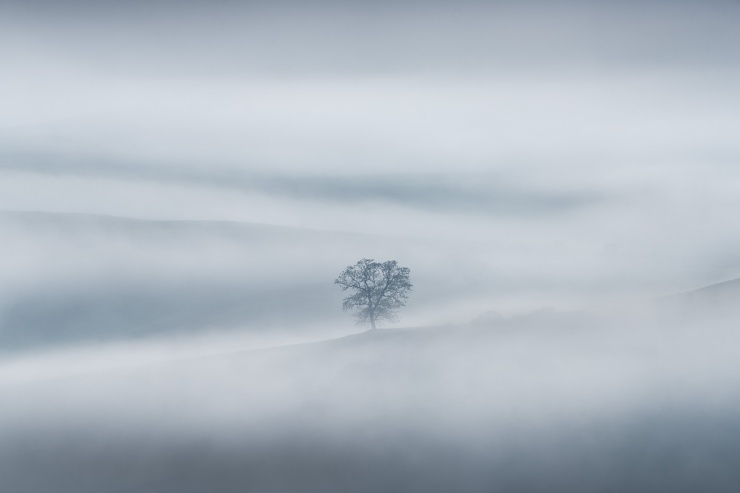 6:20 am
A short drive away, the Poggio Covili viewpoint beckons. A famed spot for its enchanting cypress trees, Podere Covili stands majestically, ready to be lensed.
From our elevated vantage point, we aim our telephoto lenses to catch the trees, backlit by the slowly rising sun, their shadows elongating and dancing on the Tuscan floor.
Blue hour begins at 5:36 am, golden hour begins at 5:48 am, Sunrise is at 6:06 am and golden hour ends at 6:46 am.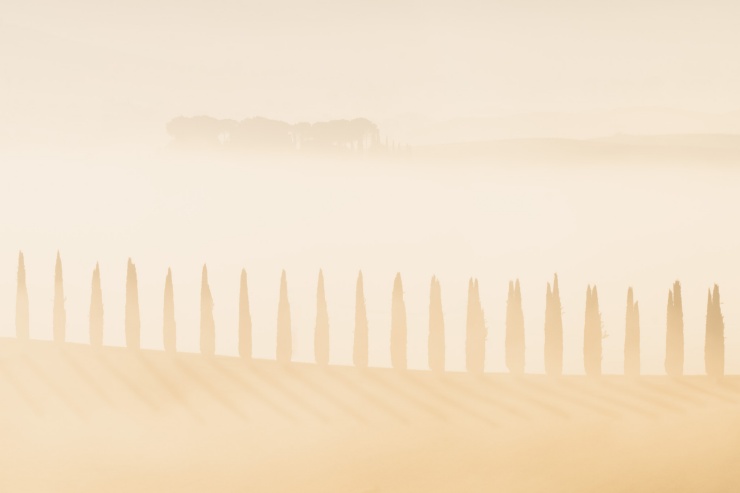 7:30 am
Sumptuous breakfast at the villa.
8:30 am
Down time!
12:30 pm
Hearty lunch at the villa
2:00 pm
Siesta time (nap time).
03:40 pm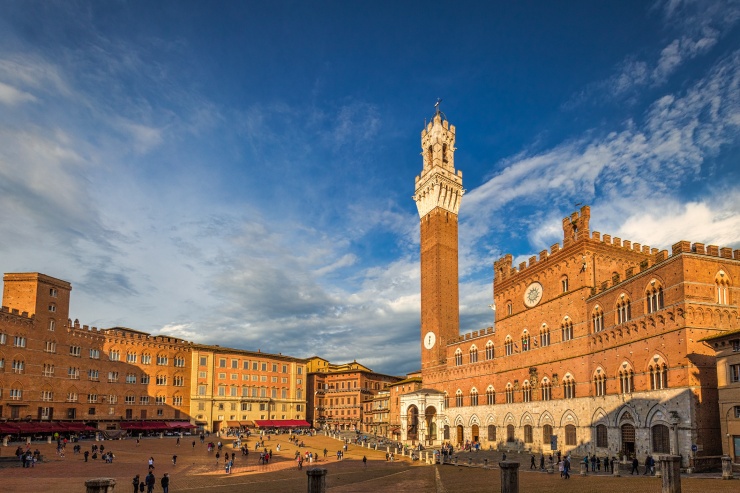 The historical charm of Siena beckons. We drive through the heart of Tuscany, reaching the old city by mid-afternoon. Here, we have some free time, allowing everyone to explore the city's cobblestone streets, marvel at its medieval architecture, and absorb its age-old allure.
5:30 pm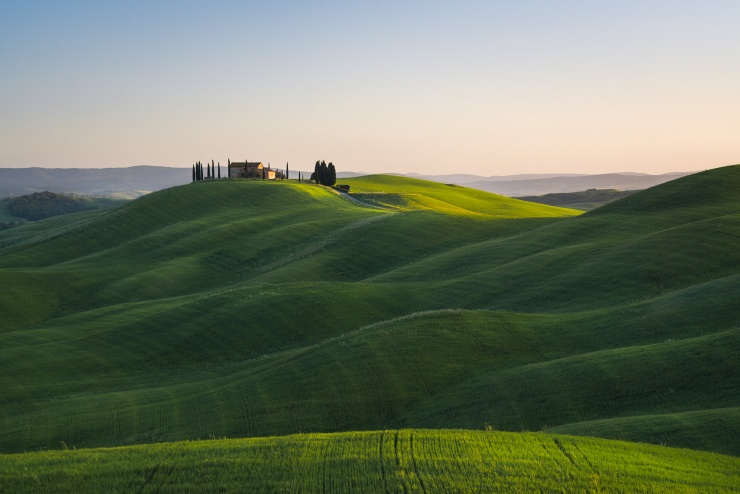 Our next destination promises a different kind of visual treat. As we hike to our planned spot, the landscape unfolds, the undulating hills, and the prominent villa poised perfectly for a wide or mid-range shot.
The fading light casts a golden sheen on the hills, a moment we aim to immortalize.
06:45 pm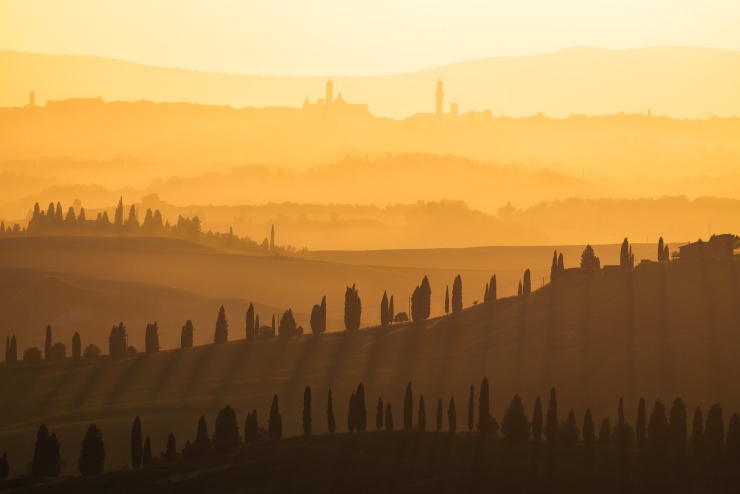 A brief drive later, we find ourselves amidst an enchanting landscape – layered cypress trees with the silhouette of Siena in the distance. We catch the land bathed in the glow of the setting sun. The topography demands longer focal lengths, and our tripods stand tall, ensuring we capture the full breadth of the scene beneath.
Golden hour begins at 7:36 pm, Sunset is at 8:15 pm, golden hour ends at 8:35 pm and blue hour ends at 8:47 pm.
9:00 pm
As we arrive at our villa, aromas of a delectable dinner waft through the air, drawing us in.
11:00 pm
Bed time!
Photographic pills:
Pre Blue hour photos to capture the mist.
Golden hour and Sunrise at Poggio Covili.
Afternoon streets and architecture shots in Siena.
Late afternoon shots with a secret villa.
Golden hour and Sunset with the skyline of Siena.
Day 5. Thursday, May 2nd - Serpentine Roads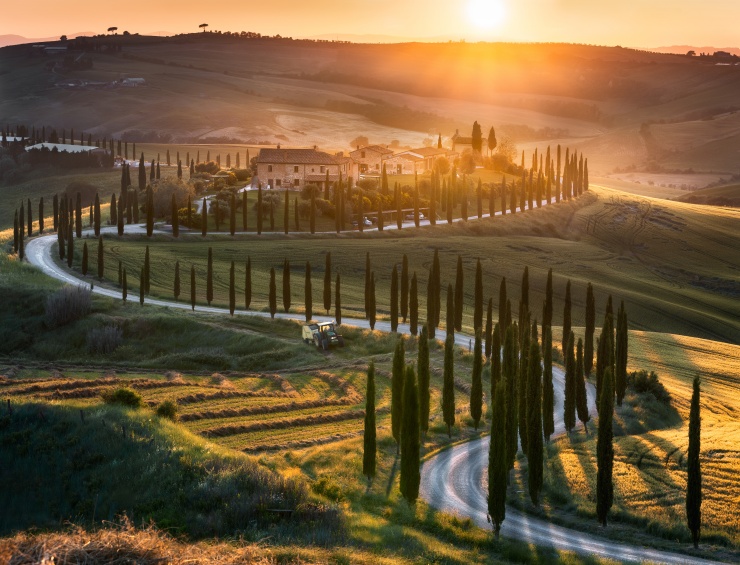 5:00 am
Before the break of dawn, with the last remnants of the night sky still overhead, we begin our journey towards Chiesetta di Vitaleta. The route, silent and serene, promises the allure of a Tuscan sunrise.
5:30 am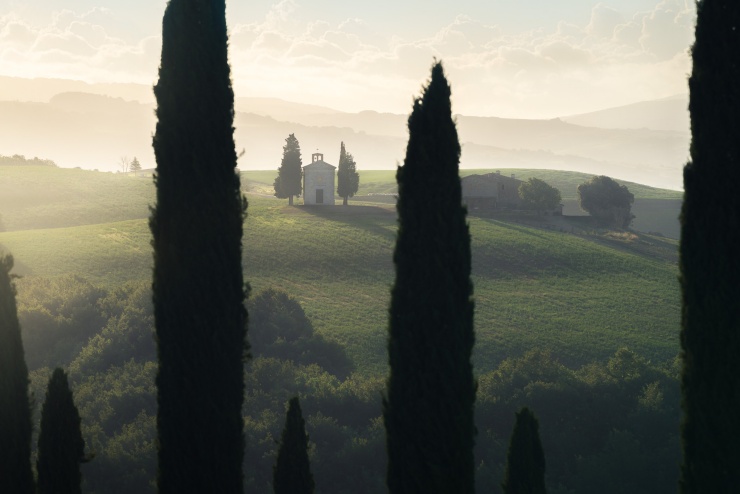 As we arrive, the distinct shape of Chiesetta di Vitaleta becomes visible. Under the first light of the blue hour, we position our lenses, using the cypress trees to frame the chapel.
For those wanting a minimalist touch, there's the option to capture the chapel atop its hill, standing solitary. A telephoto lens proves invaluable for both compositions, magnifying the chapel's ethereal beauty against the backdrop of dawn's first light.
The sun rises, the golden hues illuminate the Tuscan landscape, and with our shots taken, we head back to our villa.
Blue hour begins at 5:34 am, golden hour begins at 5:46 am, Sunrise is at 6:05 am and golden hour ends at 6:44 am.
7:30 am
Back at the villa, the tantalizing aroma of breakfast fills the air – a hearty start to what promises to be an eventful day.
11:00 am
Post processing class with Marco and Neil.
1:00 pm
As the post-processing session wraps up, the aroma of authentic Italian pizza wafts through. Prepared by one of Italy's top Pizzaiuolo, the culinary delight promises a taste of Italy that's as authentic as the landscapes we've captured.
3:00 pm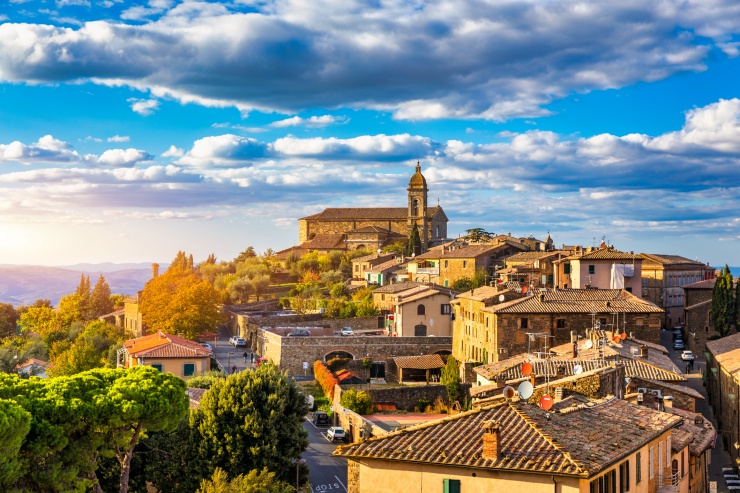 Montalcino awaits.
A short drive leads us to this historical town, where cobbled streets and medieval structures offer a journey back in time. As we stroll and explore, the town unveils its tales and treasures.
5:00 pm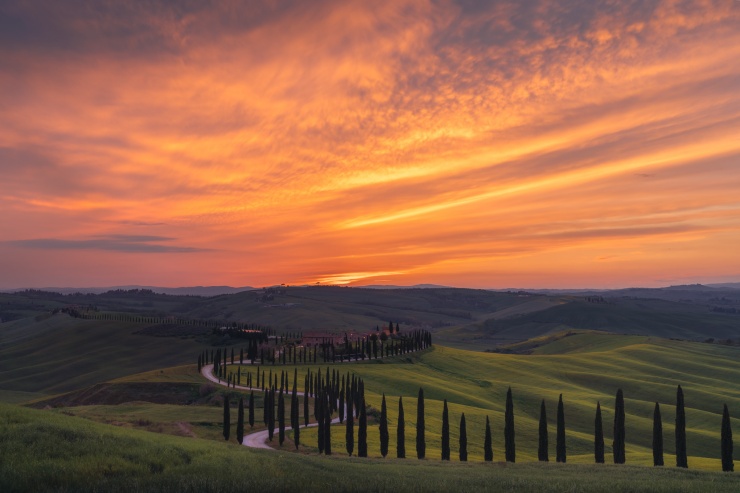 Leaving Montalcino behind, we drive towards a very nice place. The journey is as picturesque as the destination, with spontaneous stops allowing us to capture the Tuscan countryside's essence – from rolling hills to iconic cypress trees lining the horizon.
6:00 pm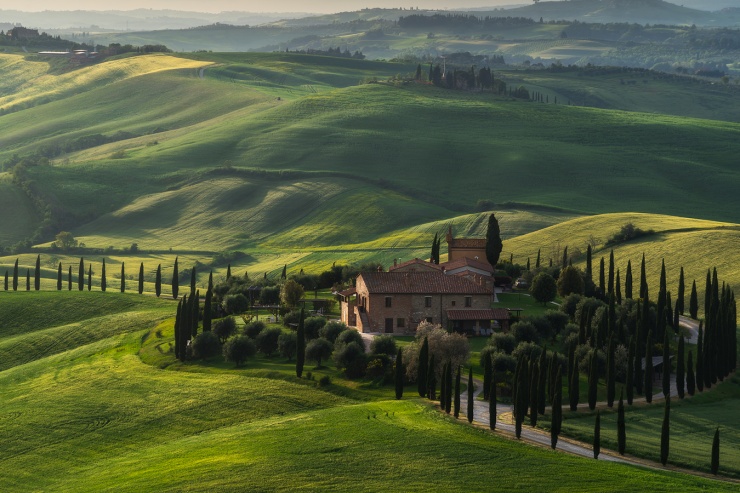 The "Eroica" road unfolds next, an iconic path known for its breathtaking vistas. With patches of shadows and light creating a dramatic play across the landscape, our cameras are busy. The telephoto lens comes to the fore again, capturing detailed shots of the distant vistas.
6:40 pm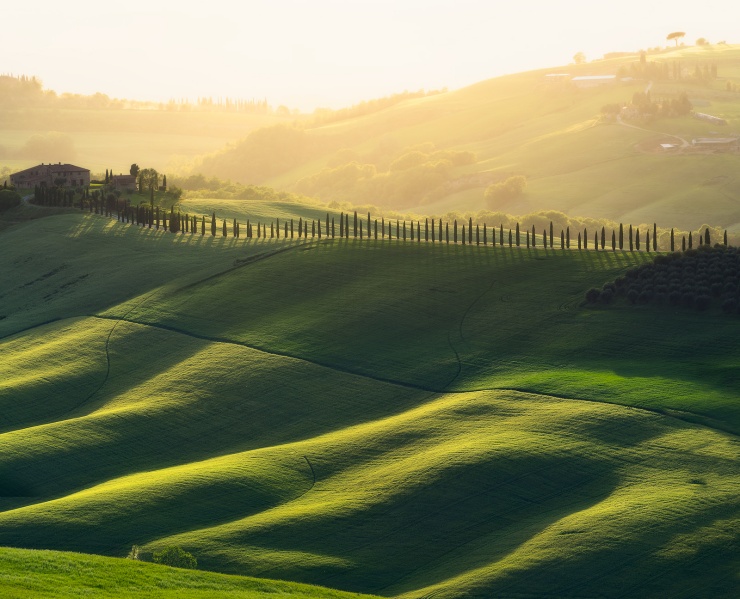 Our day's final destination, Agriturismo Baccoleno, beckons. A brief hike takes us to the planned spot where the road, lined with cypress trees, leads the eye towards the Podere. The scene is set for a mid-range shot, with the golden hour light casting a warm glow over everything.
Golden hour begins at 7:35 pm, Sunset is at 8:16 pm, golden hour ends at 8:35 pm and blue hour ends at 8:47 pm.
9:30 pm
The day culminates with a delectable dinner.
11:00 pm
Bed time!
Photographic pills:
Blue hour, Golden hour and Sunrise at Chiesetta di Vitaleta.
Afternoon streets and architecture shots in Montalcino.
Late afternoon shots at a really beautiful place.
Golden hour and Sunset shots of the curvy road towards Podere.
Day 6. Friday, May 3rd - The Secret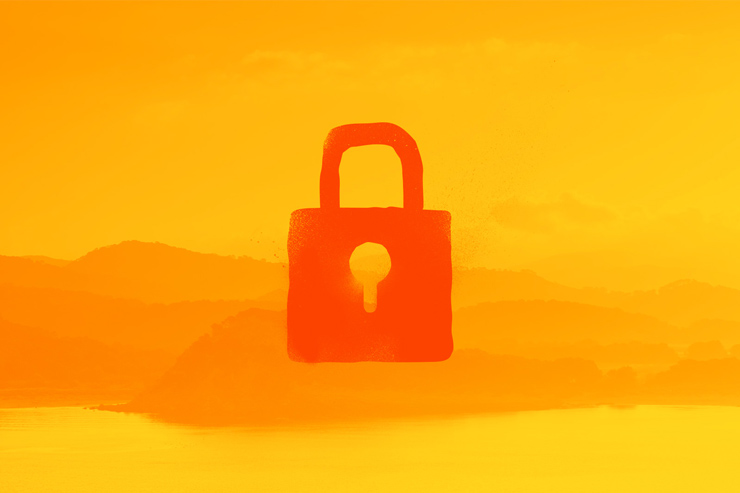 I've been giving you lots of details of this amazing expedition to Tuscany.
Maybe far too many...
But on May 3rd we'll do something very special...
What will that be?
Well, you'll have to be there, with us, to figure it out :P
Day 7. Saturday, May 4th - The Farewell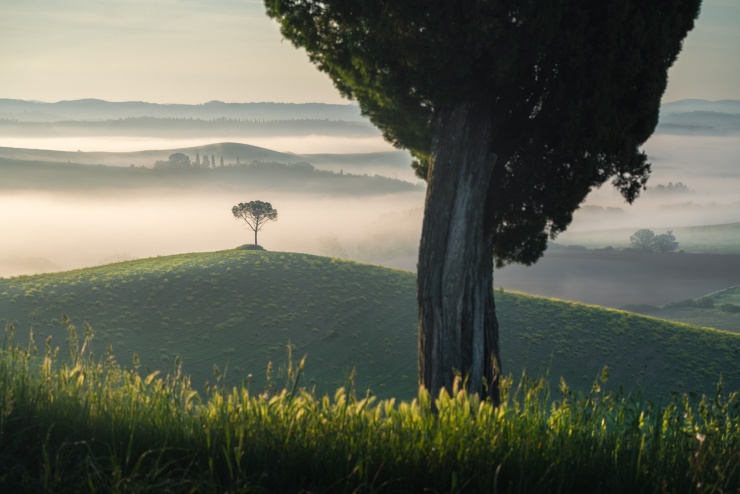 5:00 am
Before the world awakes, in the tranquility of the Tuscan predawn, we set off for our final sunrise shoot. The promise of that solitary pine tree silhouette against the dawn beckons us.
As we walk to our designated spot, the horizon already starts showing tinges of the approaching blue hour.
A lone pine tree is gracefully perched atop a hill, its outline becomes clearer with every passing moment.
I suggest you frame the tree against a clear backdrop.
As the sun ascends, its rays peek through the branches of nearby cypress trees, presenting another beautiful photo opportunity.
Those with telephoto lenses find endless subjects in the distance, capturing the finest details of the Tuscan landscape.
The Tuscan sun casts its golden light one last time on our expedition, and as it starts to ascend higher into the azure sky, we make our way back to our transportation.
Blue hour begins at 5:30 am, golden hour begins at 5:42 am, Sunrise is at 6:01 am and golden hour ends at 6:41 am.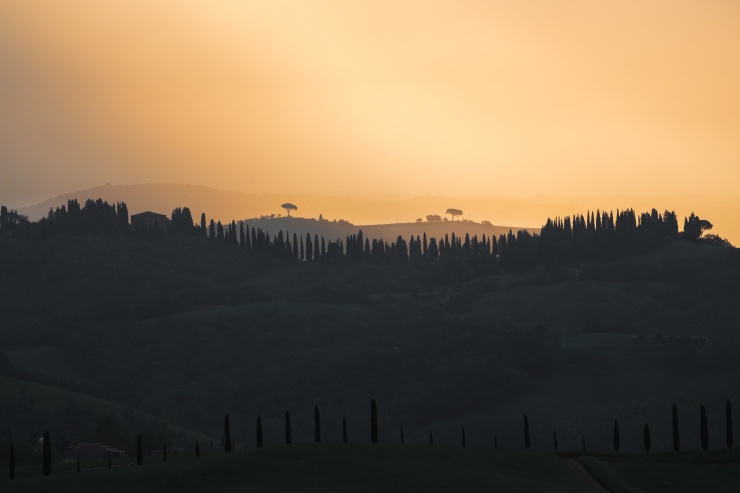 7:30 am
At the villa, breakfast awaits. Amidst the aroma of fresh brews and baked goods, there's a touch of nostalgia. The final Tuscan morning is filled with the sounds of laughter, reminiscing, and the clinking of glasses.
9:45 am
A drive to Florence marks the final journey of our expedition. As the landscapes roll by, it feels like a moving gallery of all the places we've visited, the moments we've captured, and the memories we've created.
11:35 am
As we reach Florence airport, it's time for goodbyes. The drop-off isn't just about ending the trip; it's about sending off new friends with hearts full of gratitude and memories.
Throughout these seven days, we've not only explored the heart of Tuscany but also discovered the artistry in each one of us. From blue hours to golden hours, from hilltops to cypress-lined pathways, each frame we captured is a testament to the beauty of this land and the camaraderie we shared.
As we part ways, remember that while the expedition concludes, the journey of exploration and creativity never ends. Here's to the horizons we've witnessed, the moments we've frozen in time, and to the many more horizons awaiting our lenses.
Until our paths cross again, arrivederci and safe travels.
Book Now and Save €500
To book your spot to join the expedition to Tuscany at a reduced price of €6,500 (the official price is €7,000), a €2,000 deposit is required by Sunday December 10th.
Payment in full is required by January 21st, 2024.
Please, finalize your booking as soon as possible. The seats are sold on a first come, first served basis.
What's included in the price
PhotoPills Welcome Pack.
A 7-day expedition photographing Tuscany along with the spring colors, the golden light and the Sun (including a few cool Sun alignments).
7 days of learning, fun and adventure with Marco Grassi, Neil Tapman (PhotoPills Masters) and the funniest geek community – the PhotoPillers.
Full immersion in the PhotoPills method (Imagine.Plan.Shoot!).
6 nights of lodging, sharing a double room with another PhotoPiller (Optional 1,000€ Single Room supplement - only 2 single rooms available).
Breakfasts, lunch and dinner at the villa.
Private chef.
All activities on the Secret Day.
1 Cooking show with Italian chef.
Private transportation.
What's not included
Flights.
Medical and travel insurance coverage (recommended).
Visa.
Snacks, alcohol and beverages.
Anything not mentioned in the "included" list.
Do you want an example of how huge this will be?
This is a glimpse to what happened in the 2016 PhotoPills Expedition to Iceland. We had so many adventures and so much fun... We can't wait for Tuscany!
But you don't have to take our word for granted. Here's what some PhotoPillers say about the PhotoPills adventures:

"I went to Iceland expecting to have the opportunity to photograph the marvelous landscape and master nightscapes. What I encountered was so much more – 14 kindred souls from across the globe who share a passion for photography. Together we expanded our creative boundaries, learned from one another and had an insane amount of fun in the process. I am confident that everyone came away from the experience a better photographer."

"From the very moment the guys from PhotoPills announced the expedition to Iceland... I didn't think it twice! I was using PhotoPills but not at its full capacity, so I had no better chance to learn from the creators of this amazing app. The experience was even more amazing than anything I could have imagined. In Iceland, I discovered a bunch of folks as crazy about photography as I am. I had a blast!
Photography is a continuous learning process, you always find something new that motivates you to improve. And this adventure made me improve more than I could imagine."

"The PhotoPills guys know how to create a fantastic experience. They bring an infectiously fun energy and are always willing to drop some handy photography knowledge on you that you will take with you. You take their trip and you'll for sure have a good time, get some amazing pics and leave a better photographer."

"During my experience in Iceland I lived wonderful moments and had surprises that were beyond the expected. It completely exceeded my initial expectations! Sharing knowledge, experiences and ways of working and living photography with such a great group has been one of the most enriching life experiences I have ever had.
Who he said that learning and knowledge sharing can not be wonderfully fun?"

"I can't say enough about what a fantastic time I had during the PhotoPills Iceland photo tour! The guys from PhotoPills and Donal Boyd were so knowledgeable, accommodating, and especially lots of fun. Never a dull moment – nonstop action and shooting of amazing landscapes for 10 days. I came away with enough images and memories to last a lifetime!"
FAQs
What's the temperature in Tuscany in April and May?
Tuscany, located in central Italy, experiences a Mediterranean climate, with variations due to its diverse topography. At the end of April and beginning of May, spring is in full bloom in Tuscany.
Typically, during this period, you can expect:
Daytime temperatures: Ranging from 15°C (59°F) to 25°C (77°F).
Nighttime temperatures: Typically between 8°C (46°F) to 15°C (59°F).
The weather can be quite pleasant, with longer days and abundant spring flowers. However, there might be occasional rain showers, so it's a good idea to be prepared with some light rain gear.
What do you recommend I bring along for the expedition?
Your sense of adventure and fun, your camera and your sense of humor, of course.
Besides that? When you book your seat, we'll send you an Information Package that will give you further details and suggestions about what to bring (gear, clothing, etc.).
Is travel insurance included in the price of the expedition?
No. Participants are recommended to purchase national or international medical and travel insurance coverage.
Also, we recommend you to choose a travel insurance that:
Covers trip cancellation costs.
Covers Covid-19 health, travel and cancellation costs.
What is the cancellation policy?
We hope you don't need to cancel your spot, but if a situation arises where you don't have a choice, our cancellation policy is the following.
If you cancel and the expedition is otherwise filled, we'll refund you the full booking fee you have paid, minus a €300 administrative fee.
If you cancel and the expedition doesn't fill, then you'll be refunded according to the following schedule, based on the full fee of the expedition:
61 days or more before the expedition: 100% refund, minus the deposit payment and the non-refundable costs that are withheld by our travel partners.
60 days or less before the expedition: No refunds will be given.
Refunds will be paid using the same original method of payment.
Credits: All images by Marco Grassi and Neil Tapman.