Wearing photography in pure PhotoPills style, what else?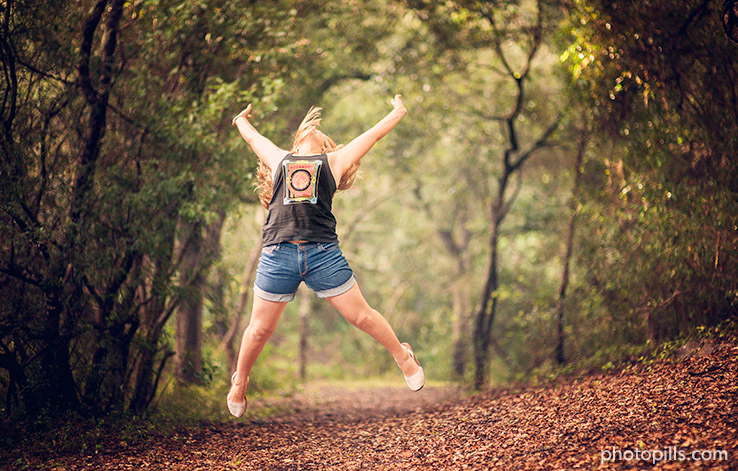 Since the launch of PhotoPills in 2013, we've been receiving e-mails from many PhotoPillers all around the world asking the same question: where can I get your PhotoPills T-shirt?
Well, we're so excited to finally satisfy you! We must confess, it's been so fun! Our initial idea was to put together a couple of designs with the PhotoPills logo, but once we started brainstorming we could hardly stop.
You'll find all these exclusive designs by Joan Pons (The Designer) for men, women and kids in many different colors in our shop.
PhotoPillers Original
Here you have it guys: the unmistakable image of PhotoPills, where it all begun!

PhotoPillers Logo
Originally designed to satisfy Antoni Cladera's desires (The Photographer). So proud to be a PhotoPiller!

Supermoon Tour 2015-2020
It's a long way to the top if you wanna Rock 'n' Roll... Join us in the wildest Supermoon tour ever!
All 2015, 2016, 2017, 2018, 2019 and 2020 supermoon dates are listed around the supermoon picture.

Antoni Cladera's "The Shelter And The Moon"
As the sands of time run low, erosional forces consume this ancient stone shelter. While the majestic moon, so far away and so close at the same time, is a privileged spectator of its tragic fate. Planned with PhotoPills, of course!
All the photogarph details are included under the photo: photographer, camera, focal length, aperture, shutter speed, ISO, WB, location (lat, lon), date and time... so you can reproduce it with PhotoPills.

Aperture
Aperture is that little hole through which surprising phenomena may be observed by the photographer.

Lightmeter-man
Ah! The light meter... that little Superhero that dwells inside your camera and sees the world in 18% grey.

White Balance
Be the WB Master!

Gandalf
In the absence of a definitive solution, Gandalf is the perfect shield against bad weather conditions xD

Danger Clouds!
Waiting for the weather forecast the night before a shoot is like waiting for the lottery results, you never know if you're gonna get lucky.

FATAL ERROR: Clouds! 404 Moon Not Found
Everything has been thoughtfully planned, the moon is getting closer to the exact position you want... and, suddenly, when you're about to press the shutter... FATAL ERROR: Clouds! 404 Moon Not Found.

DeaMOONized
Shooting the moon too many times might produce undesired side effects. Don't say we didn't warn you!

Imagine. Plan. Shoot.
Simply the PhotoPillers' formula to success.

Plan & Pray
Welcome to the club of those who Plan... and then Pray for good weather conditions.

Here Comes The Sun
If you feel down, do what George Harrison did: just sing "Here Comes the Sun"!

One Shirt To Rule Them All
Be aware! Wearing it might turn you into an evil spectrum, which struggles to jealously keep all locations secret, hidden from everyone else, only for its own profit... for eternity.
"One Shirt to rule them all, one Shirt to find them, one Shirt to bring them all and in the darkness bind them"
Light My Way
Find your way in the dark. Lighthouses have been crucial in many wars, suffering the pain of the battlefield. Look into their past and discover the secrets hidden behind the walls.

Shoot Until We Die
The PhotoPillers' prayer:
"When the day comes I'll be ready, I feel the weather is on my side; The stars in the heavens are moving, soon they will align; Thor God of thunder, let me die with a camera in my hand.
Raise your hands, cameras in the wind; Brothers of nature together again, with the gear on our backs we ride; We'll plan until we win, or we'll shoot until we die!"

Wildlife? Patience Is The Secret
The name of the game in wildlife photography – whether you're trying to capture a herd of elephants on the Serengeti plains or squirrels in your backyard – is patience.

City Skyline
Including your city skyline under the moon sure makes a truly memorable shot. Do you accept the challenge?

Dude, Where's My Car?
Were you abducted by aliens and can't remember where you parked? Next time create a point of interest with the car pictogram!

Flower Power
Just photography is not enough. One must have sunshine, freedom and a little flower.

Shipwrecks
The United Nations has estimated that there are more than 3 million shipwrecks lying on the sea floor. Awesome!

Ghost Towns
Sometimes visiting the same old haunts or taking the same types of photographs can get stale. Why not trying something a bit more challenging?

Beach Boy With Camera
I definitely wanna be a beach boy with camera!

Camping Under The Stars
Escape from Civilization, immerse yourself into the great outdoors, plant your tent and enjoy the whole night photographing the mighty Milky Way.

Appetite For Photography
We'd like to dedicate this shirt to Juan Lemos and his voracious appetite for photography.
You'll find all the designs in many different colors in our shop.
Happy Shooting!