Q&A with Kareem Khalaf, April PhotoPiller of the Month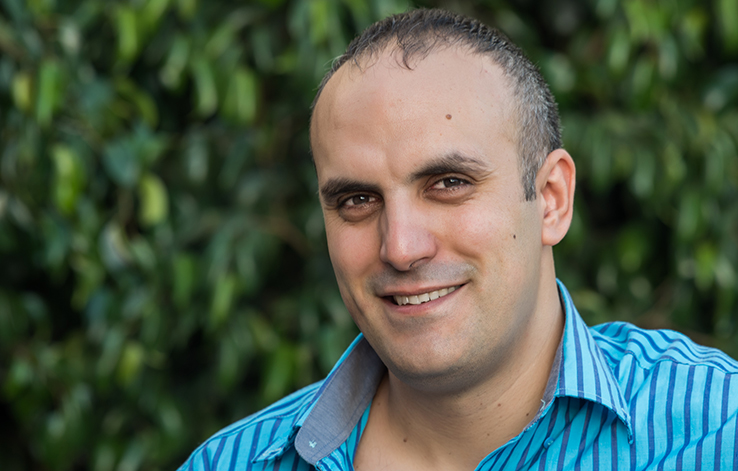 For Kareem Khalaf, It's all about telling stories using a giant Moon as the main character. In this interview Kareem talks about his passion: Moon photography.
He is the April PhotoPiller of the month, the Moonmaster and the winner of $100 in the PhotoPills Awards.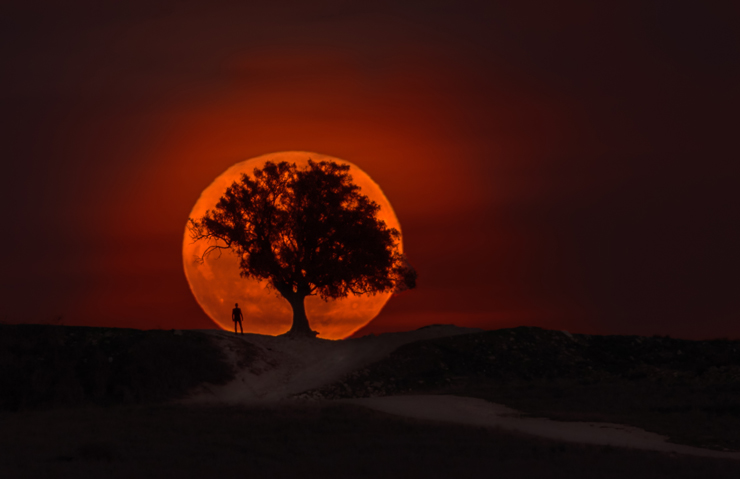 Also, a Big Congrats to the other two winners:
Congratulations guys!
And again, thank you to all the PhotoPillers who are sharing all these legendary photos with the whole tribe via PhotoPills.
Congratulations, you're the April PhotoPiller of the Month, how does it feel?
I am really excited by it! and I'm honored I was given the opportunity.
Tell us a little bit about you. What's your story?
My name is Kareem Khalaf and I am Macro/Moon/landscape photographer.
I got into photography 3 years ago. My first DSLR was Nikon D7100 and now I have a Nikon D750.
I try to photograph unique and special photos. I fell in love with Moon photography one  year ago. And recently I bought a Nikon 200-500mm and a Nikon 1.4 TC to be able to express all my ideas in Moon photography.
What's your favourite beer?
I don't drink beer.
What's your favourite PhotoPills t-shirt?
Plan and Pray is the t-shirt that represents the Moon shooter.
Where are your headquarters?
Nazareth!
Why photography?
Simply because it's a way of self expression. And also It's the best way to escape from life stress.
I can't imagine my life without photography.
What's the story behind your legendary shot?
To find a lonely tree on the top of a hill was a difficult mission for me. After a long time searching on internet and asking people, I finally found one.
I went to where the tree was and checked if the show would be possible as planned. The composition was simple and powerful. The big tree and a man who stood under it, watching the Moonrise.
What PhotoPills tools did you use?
The Planner tool!
It's very powerful and easy to use.
What equipment and settings did you use?
I took the shot with my Nikon D750, Nikon 200-500mm f/5.6 lens and Nikon 1.4 TC II.
The settings are: 650mm | ISO 400 | f/11 | 0.8s.
If you had to choose one lens which one would it be and why?
The Nikon 800mm f/5.6!
It's sharp corner to corner and there is no need to crop photos anymore haha.
How would you describe your style?
Extreme photography.
How important is planning in your photography?
It's extremely important.
In order to turn ideas into real images, you need to be very accurate with calculations and planning.
For example, to calculate the angle and distance that allowed me to show the Moon with the same size as the tree.
How important is editing in your final images?
There are a lot of challenges in Moon photography.
You have to get the Moon sharp and with proper exposure and the same time you capture detail in the landscape.
In many cases, it's very difficult to get all these in one shot. So editing the image makes a whole change. You can go from almost a silhouette of the landscape to show its detail. Or go from an overexposed Moon to a sharp one, full of details.
What inspires you and gives you such a great ideas?
Fine art photos give me a lot of ideas and widen my imagination.
A photographer that inspires you?
Ansel Adams.
A book that has inspired you.
Natural light photography by Ansel Adams
Say the first word that comes to your mouth and what you do, when bad weather ruins a legendary photo you had previously planned months ago...
It happened one month ago. I drove 2 hours to shot the full Moon with a very beautiful church.
I was in the right position and the sky was clear. But, in the last minute, the clouds covered the Moon. It became invisible!
The first word that came to my mouth was: OH NO!
Did you go to school to study photography?
Nope. I find all I need in the internet.
Something you're still learning?
Astronomy and advanced retouching.
Can you briefly describe for the PhotoPillers your photographic workflow?
Find a place that suitable for Moon photography (higher as possible). 

It could be a mountain or hill.
Think about composition.
Check with PhotoPills' Planner  if the Moon will be right in position for the composition I want.
When the Moon size is important, I calculate the shooting distance that gives me the Moon of my desired size.
Calculate the focus distance (the hyperfocal distance most of the time).
3 days before the shooting day, I check the weather and clouds cover forecast and pray to get a clear sky.
What would you love photographing before you die?
The Faroe islands.
Definitely the most amazing place for landscape photographers.
Are you a cat person or a dog person?
Neither.
Are you a Mac or PC lover?
PC , I haven't used a Mac before.
If you could have dinner with anyone, who would it be?
With any Moon photographer.
Your favourite film (movie) of all time?
Léon by Luc Besson.
If any, what music do you listen when shooting?
I don't tend to listen to things when I'm out shooting. I need a lot of concentration when shooting.
First thing you would do if you won the lottery?
Buying the Nikon 800mm f/5.6 and take a world wide tour to shot the full Moon with the most famous landmarks all around the world.
What would you like to be doing in 5 years from now?
To be a full time freelance photographer.
Could you share one final piece of advice with the PhotoPillers?
To be creative and to shoot new ideas. To visit the place you want to shoot and make simulations to figure out if the plan matches reality. 
And the last question, if you had one wish...
I wish to teach photographers who are interested in Moon photography.
Oh, one more... Where can we find you?
I publish all my photos on Facebook and Instagram. 
Note: some links on this page are affiliate links. What does this mean? If you buy/rent using these links you're helping support us and it costs you nothing extra. Thank you for your support.