PhotoPills adapts to iPhone 6 and 6 Plus: new version v.1.2.1 available now!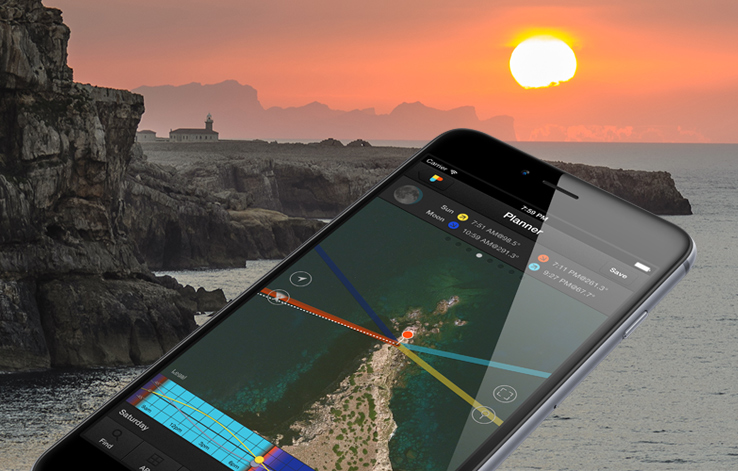 It took us a while but finally... the new version of PhotoPills adapted to iOS 8 and the new iPhone 6 and 6 Plus is now available!
Those of you lucky enough to have one of these devices will enjoy a much larger map to plan your photos with the Planner.
We've also implemented the new iOS 8 privacy control, a very important issue for us. Now, PhotoPills requests a permission to access the coordinates of your current location, which will be used for internal calculations only when you are using the app.
This way, you can rest assured that PhotoPills will never have access to your current location when you're not using it. Also, we'd like to remember that PhotoPills only uses your current location for three specific functions:
Sun and Moon tools, to calculate rise and set times for your current location.
Augmented reality views, to be able to calculate the path of sun, moon and Milky Way for your current location.
In the Planner, when you want to place the Observer Pin in your current location.
Furthermore, we've implemented many more improvements:
Now a Plan also saves the position of the Obstacle's pin and the Sun/Moon - Milky Way toggle button state.
Improves the camera search by searching also by brand and model.
New buttons in the Academy Section: direct access to the videotutorials and articles available at photopills.com
Added a "Now" button to all Sun/Moon/Night Augmented Reality views to set time to the current date/time. We've also added a gesture to achieve the same result: double tap on the center of the AR screen.
Fixes error with apparent height in "Find at azimuth & elevation" when it was inserted using imperial units.
Fixes error of data not being saved when a POI or Plan was send to the Planner from My Stuff section.
Fixes error when capturing the screenshot of the Sun/Moon AR views. The date was not added in the screenshot.
Adds new cameras:

Fujifilm X-T1, X-E2, X30, X100T, X-M1, X-A1
Nikon D810, D750
Canon EOS 700D, EOS 7D Mark II, PowerShot G7 X, PowerShot SX60 HS
Leica X (Typ 113), D-Lux (Typ 109), V-Lux (Typ 114), X-E (Typ 102), S (Typ 007), S-E (Type 006)
Panasonic Lumix DMC-GH4, Lumix DMC-GX7, Lumix DMC-FZ1000, Lumix DMC-LX100, Lumix DMC-GM5
Samsung NX1
Sony a7s, a77II, NEX-3N, Cyber-shot DSC-RX100 II, Cyber-shot DSC-RX100 III
Happy Shooting!