Filmmakers! Now PhotoPills includes movie cameras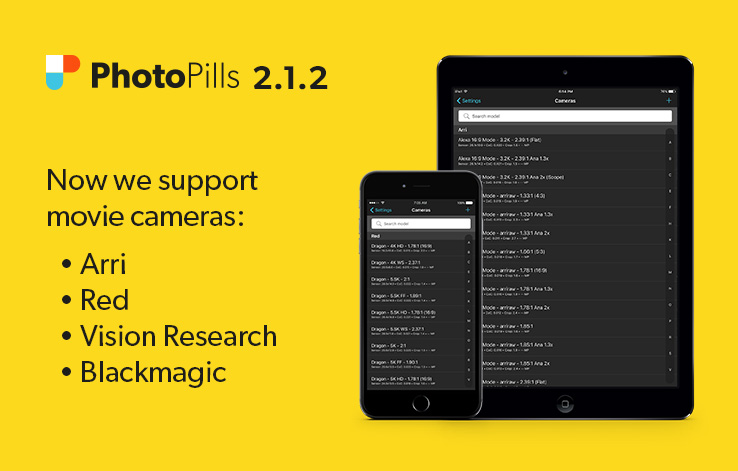 Hi PhotoPillers!
This update (PhotoPills 2.1.2) is specially interesting for those of you who are both in photography and filmmaking.
Now, all the calculators allow you to set cameras used in filmmaking like Arri, Red, Vision Research Phantom and Blackmagic.
We love movies, so we're asking you to send us anything that we can use to make PhotoPills more useful for filmmakers!
Don't hesitate to send us your suggestions via info@photopills.com:
Features you'd love us to add.

Cameras that you use and are not listed.  
In addition to the movie cameras, we've also added the following DSLR cameras:
Canon EOS 1D X Mark II, EOS 100D (EOS Rebel SL1); Sony Alpha a6300, Cyber-shot DSC-QX100, Cyber-shot DSC-QX30; Nikon Coolpix A10, Coolpix A100; Fujifilm XP90, X-E2S, X-Pro2, X70; Leica X-U (Typ 113); Olympus PEN-F
Finally, an IOS 8 Bug has been fixed. This problem occurred when adding an event to the calendar.
Special thanks to Jordi Planell and Juanjo Serrano for helping us with this version ;)
We'll keep improving!